Kapiti Lights is about to get a makeover with work to upgrade the area commencing next week.
The Kapiti Lights upgrade is a key project in the Council's town centres transformation programme which aims to take advantage of the opportunities provided by the Kapiti Expressway.
Infrastructure Services Group Manager, Sean Mallon, says Kapiti Lights holds a unique position in the Paraparaumu town centre with the potential to provide an essential link between the civic precinct and the transport hub.
"Our goal is to see the Paraparaumu town centre become the vibrant heart of the district and the improvements we're making will make the area more pedestrian friendly which in turn will help create a setting that supports new and existing businesses to thrive.
The Council is working in partnership with Kapiti Lights property owners and Coastlands to deliver the upgrade. The project will be delivered in three stages and will involve creating welcoming public spaces and laneways with planting, seating areas, new paving and quality lighting to improve the environment and safety.
Chairperson of Kapiti Lights Body Corporate, Iride McCloy, says the upgrade for Kapiti Lights has been many years in the making and it's great to finally see the work getting underway.
"The upgrade will make the area a much more attractive proposition for people wanting to access businesses and services in the area and, in time, it's anticipated businesses will enjoy an uplift in passing trade," says Ms McCloy.
The Thomas's from the Kapiti Cakes Bakery welcome the move to make the area more pedestrian friendly.
"Providing better connections from the transport hub through the Kapiti Lights area, Coastlands and out onto Rimu Road will certainly improve foot traffic which is good for business," Mr Thomas said.
Work to upgrade the Kapiti Lights area will be carried out in stages over the next six months to minimise disruption. Hours of work will generally be between 7.30am and 5pm on weekdays and Saturdays and Kapiti Lights businesses will remain open throughout construction.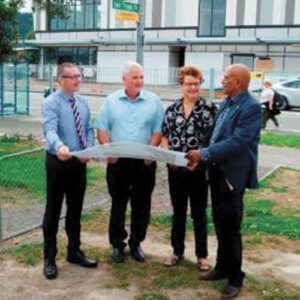 Martin Hett (Kapiti School), Richard Mansell (Coastlands), Iride McCloy (Kapiti Lights Chair), and Mayor Gurunathan.