Kapiti Cakes & Bakery owner Thomas was among one of the judges who was here to find the best hot cross buns in New Zealand.
New Zealand's best hot cross bun in 2017 is being made by Auckland baker Tong Min Li of Hillpark Bakery in Manurewa.
His hot cross buns topped 180 entries in the 2017 Baking Industry Association's competition and he won over the judges with his cinnamon, mixed spice, allspice, raisins, currants and mixed peel, made with a butter and egg-enriched dough.
Chief judge Michael Gray said Li's buns were nicely formed, had a good height and good distribution of fruit through them.
"They just had a really well-balanced flavour inside them that made the judges want to go back for a second taste."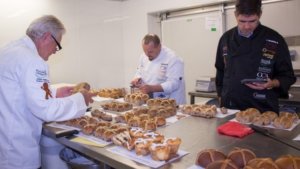 Baking Industry Association judges marking entries in the 2017 competition.

Second place went to Angie Robertson from Hastings City New World with her adventurous tropical fruit bun that included papaya, mango, starfruit, rock melon with toasted coconut.
Third Place went to Deborah Bruce of Ubake in Timaru for her traditional bun containing mixed spices and orange-soaked sultanas. It was glazed with an apricot, orange and clove-infused sweet glaze and used a long fermentation period to develop the flavours.
Gray said standards had lifted compared to previous years.
"We are seeing people trying to put different spice and fruit through them. We are seeing people take more pride in their work."
He said hot cross buns are as popular as ever and new flavours were helping that. They were the biggest seller around Easter and they were also a chance for bakeries to show customers they didn't just put the same product out day after day. Hot cross buns were a way to help keep people excited about baking, Gray said.
OP 10 HOT CROSS BUNS 2017
Hillpark Bakery, baker Tongmin Li, Auckland.
 New World Hastings, baker Angie Robertson
 Ubake, baker Deborah Bruce, Timaru
Continental Bakery, baker Marcus Braun, Rangiora
Ten O'Clock Cookie Bakery Cafe , baker Jenna Mangin, Masterton
 Rangiora Bakery, baker Frank Janssen
The Rosebowl Bakery, baker Rachel Smith, Feilding
Clareville Bakery, baker Michael Kloeg, Carterton
 Arobake, baker Maximillian Fuher, Wellington
 New World Levin, baker Damian Crookes
 Chaffers New World, Wellington