– About Kapiti Cakes & Bakery –
Kapiti Cakes is a second generation family business formerly known as The Windmill Quality Cake Shop.
Our café, shop and bakery is located in Paraparaumu on the Kapiti Coast. We are proud of our quality food and great service we offer to our local customers and visitors. Well known on the Kapiti Coast for our delicious speciality decorated cakes, cupcakes, savouries and sandwiches – we can also provide for all your personal, party and corporate catering needs.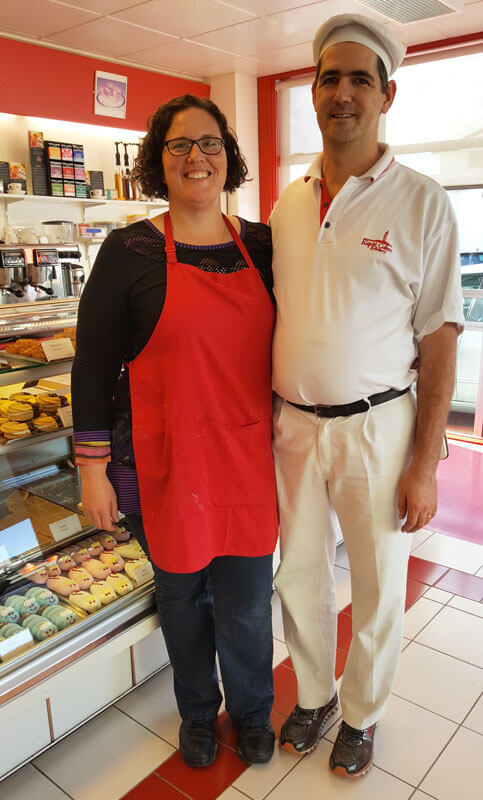 Hi, We are Thomas & Mary Thomas
Mary and Thomas have owned Kapiti Cakes and Bakery since 2007.
Thomas grew up in a family bakery. Getting up and helping his Dad before going to school when needed. Baking has been in his blood right from a young age.
Mary is a true local born and raised in Paraparaumu. Her family had their own business building. Thomas and Mary have continued the tradition and their children come and help out when they can, especially at Easter packing all the hot cross buns before heading to school.
We strive to be the best in all we do. We take pride in the products we offer and our great customer service. We are both hands on in our business and we believe this makes a difference.
Our jobs are very rewarding and we love seeing client's face's when they come to collect a cake we have created for them. "It is the icing on the cake for us" and also the feedback afterwards with the lovely positive comments.
The company was launched in 1970 in Porirua City by Thomas Senior and Julie Thomas.
The Paraparaumu shop opened in September 2001 and in 2007 Thomas and Mary purchased the Paraparaumu shop from Thomas's parents and have been working hard ever since.
In the family tradition, we continue to offer great products at competitive prices – all our products are prepared to the highest standards by qualified Craft Bakers. As industry leaders who have won a range of awards, we believe in supporting local industry training and regularly have an apprentice or two helping with production.
Come in and see us today at Kapiti Cakes, Coastlands Parade, Paraparaumu or contact us to discuss your speciality cake and/or catering needs.
Get in touch with Kapiti Cakes & Bakery today! and let's make amazing cakes together